Welcome to The Auld Alliance Restaurant

Kirkcudbright, Dumfries & Galloway, Scotland

Welcome to The Auld Alliance Restaurant

Kirkcudbright, Dumfries & Galloway, Scotland

Welcome to The Auld Alliance Restaurant

Kirkcudbright, Dumfries & Galloway, Scotland

Welcome to The Auld Alliance Restaurant

Kirkcudbright, Dumfries & Galloway, Scotland

Welcome to The Auld Alliance Restaurant

Kirkcudbright, Dumfries & Galloway, Scotland

Welcome to The Auld Alliance Restaurant

Kirkcudbright, Dumfries & Galloway, Scotland

Welcome to The Auld Alliance Restaurant

Kirkcudbright, Dumfries & Galloway, Scotland
Creating the best of Scottish dishes with a French influence
Welcome to the Auld Alliance Restaurant, Kirkcudbright. Our food reflects the historic links between Scotland and France - Scottish cuisine with a French influence created by chef proprietor Will Gill using purely local ingredients. - Read more.
The menu is deliberately quite small and rather unique, winning praise from diners who have visited the restaurant from all over the world. - Read their comments.
Opening Times
Monday/Tuesday - Closed (except for private functions)
Wednesday (July - September only) 6 p.m. - 9 p.m.
Thursday to Saturday 6 p.m. - 9 p.m.
New menu launch 24th of July.

See "Offers and Events" below for Crepe Nights. (Full menu also available)

See menu in "Offers and Events".

Call 01557 330888 between 10am and 9pm daily to make a reservation or click below to book online.

Open Sunday evenings throught August.

"Beautiful little upstairs restaurant owned by chef Will Gill. His culinary skills are world class."
Diner from Brisbane, Australia, May 2017

---
About the Treaty of 1295:
the "Auld Alliance"
The term "
The Auld Alliance
" dates from a treaty signed by John Balliol and Philip IV of France in 1295 for the purpose of controlling England's numerous invasions of
Scotland
and France. The terms of the treaty stipulated that, if either country was attacked by England, the other country would invade English territory, as witnessed by the Battle of Flodden in 1513, where the Scots invaded England in response to England's campaign against France. Although principally a military and diplomatic treaty, the alliance also extended into the lives of the Scottish population including architecture, law, the Scots language and
cuisine
, an influence which
The Auld Alliance Restaurant Kirkcudbright
seeks to celebrate today.
Gift Vouchers
Gift vouchers
for the
Auld Alliance Restaurant
,
Kirkcudbright
, make the perfect gift for friends or family celebrating birthdays, anniversaries or other special occasions, or simply for people who appreciate good food.
Order yours now

.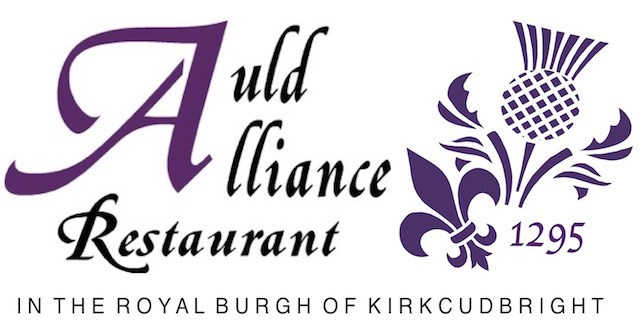 ---